Last August, I wrote a post why this year would be different, why this team would make the playoffs. Before the playoffs officially begin with the first games tonight, I think it's important to stop, take a moment, and be proud and thankful of the job Head Coach Ken Hitchcock and General Manager Scott Howson have done in Columbus, and remember where we came from.
The best part is -- this is only the beginning.
Much has been made about the Jackets moves in the past 6 months -- as far back as the trade deadline. I want to take a quick look at the faces we're seeing come in, and those we've seen go out, and why I believe this is the year.
Leaving Columbus for the 2008-09 season: Nikolai Zherdev, Sergei Fedorov, Adam Foote, David Vyborny, Gilbert Brule, Cu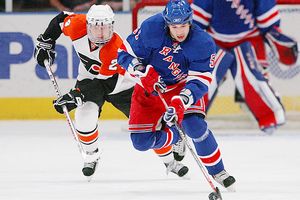 rtis Glencross, Dick Tarnstrom, Ron Hainsey, Jody Shelley, Dan Fritsche.
Coming to the Blue Jackets for the 2008-09 season: Derick Brassard, RJ Umberger, Kristian Huselius, Fedor Tyutin, Mike Commodore, Christian Backman, Raffi Torres, Jake Voracek. You could also put Fredrik Modin's name on this list, considering he played only a quarter of last season.
I'm not going to analyze every trade, signing, or non-signing in the past 6 months... it's been done before and we all know was has been going on in Columbus, OH. What I want to focus on is the overall picture. That of competitiveness and identity.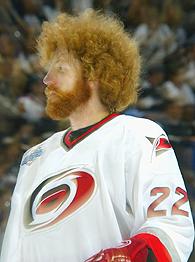 There are many possible explanations as to why the Blue Jackets have failed to qualify for the playoffs since entering the league in 2000. Most are probably true to some extent. I'll take a stab at what I believe Scott Howson sees as the biggest reason -- lack of an identity.
But what about poor drafting and depth, poor free agent signings, poor coaching, young franchise? All true, to an extent.
Howson has finally made some bold moves, shipping out two former first rounders, hoping to assemble a group of players that can muster up more than the franchise record 80 points last season. Whether one agrees with his moves or not, there's no denying this club finally has a personality. And it is my belief that is one of the differences of a team that will make the playoffs.
While the playoffs may lie on the shoulders of two rookies -- Derick Brassard and Jake Voracek -- there is one thing this team has never had -- something to fall back on. Ken Hitchcock has said, the team competed at a high level all year, but when the stakes were raised, they simply could not match skill levels. One may argue this team, as it stands, is no more skilled than last years. That may not be an incorrect statement. But what this team can do, when the going gets tough, is knock the opponent square in the mouth and tilt the ice back in their favor.
The physical hockey is no longer up to one or two players, and because the team has so many that should be willing to step up each and every night, they should also have no problem holding each other accountable in the dressing room. The team re-signed Michael Peca, and in doing so they solidified a leadership group led by young Captain Rick Nash. Alongside Peca are Fredrik Modin, Rostislav Klesla, and Mike Commodore, all prime candidates for the role of alternate captains.
Whether you look to build a team like the big, bruising Anaheim Ducks of 2007, or the supremely skilled and smart Red Wings of 2008, one thing that holds true is that the entire operation is based on a group working together, not any one individual.
At the end of the day, this team always has something to rely on, and that's something they've never had.